Who loves teaching writing? I do! So does Halle from
Across the Hall in 2nd Grade.
So we've decided to team up for a weekly linky party - all about writing!
We'll share writing tips on the same topic -- and we hope you'll link up and share, too.
And to celebrate our very first Write About It Wednesday linky party, we're also hosting an awesome giveaway. Be sure to enter!
This week's Write About It Wednesday topic is:
Stretching Sentences
My lesson is actually a daily sentence practice. I like to pull this beauty out during my expository writing unit. It really helps my kiddos get into the habit of writing with more description.
Here's how it works:
This is a laminated poster board with sentence strips glued on. There's five strips -- one for each day of the week. This little lesson takes about 7-10 minutes or less each day. It's a great mini-lesson for writing workshop or for a Daily 5 focus lesson!
On Monday, I write a simple sentence on the first strip using a white board marker. That's the sentence we will stretch every day, all week.
First we talk about any details that we can add to the sentence to make it more specific or more interesting. After our discussion, I edit the sentence and then rewrite it on the next strip.
On Tuesday, we repeat the process, only we use the second sentence instead!
Each day, we repeat this process.
Here's what the poster looks like on Friday.
My kiddos took this first sentence...
and stretched it into this!
On Friday, I erase the board and get ready to start the process again on Monday!
I use this lesson a couple of times whole group, and then intervene as needed.
I hope you can use this fun lesson -- and I hope that you're enjoying our first Write About It Wednesday! Be sure to check out Across the Hall to see what great writing lesson they've written about today.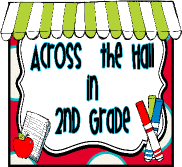 Oh! And don't forget to enter our giveaway for a chance to win some awesome prizes.
a Rafflecopter giveaway
We'd love to know what your great lessons about stretching sentences, too!
Link up to share!