It's time for another edition of Write About It Wednesday with
Halle
& Kate. (That's me!)
This week's topic: Writing Portfolios
I'm not a hoarder teacher. I'm a big slob -- you'd cry if you saw the inside of my cabinets and drawers -- but I'm
no
hoarder. I throw away. I throw away good.
I hate papers and just toss them all the time. I throw away unimportant papers. I throw away important papers.
I throw away anything I can get my little paper-throwing-away hands on.
But the one thing I never want to throw away is my students' writing. They would probably cry.
Well, hopefully they would cry.
Hopefully, they would remember all the hard work they did in writing and be very sad that they could never see it again. Hopefully.
Either way, I really do love seeing how much growth they make throughout the year. (Who's with me??) The kids LOVE comparing their work from the beginning of the year with their end of year writing.
The trouble is, I am a slob. And I throw things away.
Here's my solution to keeping it all together all year long!
In the beginning of the year, I make this wall:
For each student, you need:
- A laminated sheet of construction paper for each child
- One centered thumbtack
- A binder clip
- Some kind of label for each student's place. I used little stars I picked up at Lakeshore last year. I've seen teachers use pictures, too!
As the students complete writing assignments, they add their piece to their spot on the wall! They don't turn it into me. They hand it directly on their clip. When I review the writing, all I need to do is grab the clip! (I don't throw clips away.)
By March or so, each student has a bunch of writing assignments hanging on the wall, a great documentation of all of their writing work throughout the year.
During the last weeks of school, we put the writing pieces in order from August to June. The kids really get a kick out of reading their writing from the first weeks of school! You can also have them revise one of their old pieces of writing to spruce it up -- now that they have all kinds of mad writing skills from your awesome teaching!
Then we bind them (well, I bind them) with a binding comb/binding machine. When they leave second grade, they have a book of all of their writing progress throughout the year.
I usually make a really cute cover page that says, "My Second Grade Writing Portfolio". But since it's the last week of school, I usually don't save it. And let's be honest. Any printed ones have likely been thrown away. Several times.
Good thing I have my writing blogging buddy,
Halle
! She's made a freebie for the cover! You can head over to Across the Hall in 2nd Grade and read about
her
great writing portfolio idea and snatch her freebie cover!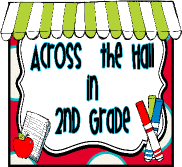 Don't forget to link up with an idea you use in your room for student writing portfolios!
Linky Rules:
- Write about an idea you use for student writing portfolios
- Link up with the actual post link (not your general blog address)
- Put the Write About It Wednesday graphic in your post
- Link back to both Halle and Kate's portfolio posts